Alan's knitting page
This web page presents pictures of some of the knitting projects I've done. All needle sizes are US. Big thanks to Tangled Web, the knitting store that got me started and supplies most of my wool and needles.
MG's silk scarf (2004)
MG bought two hanks of a yarn made from recycled Nepalese silk in Greenwich Village, NY. This scarf was knitted on size 10.5 bamboo needles using the Feather Openwork stitch from the "365 Knitting Stitches A Year" perpetual calendar:

Multiple of 5+2
Row 1 (right side): k1, *k2tog, YO, k1, YO, sl 1, k1, psso; 
  rep from * to last st, k1.
Row 2: Purl
Rep these rows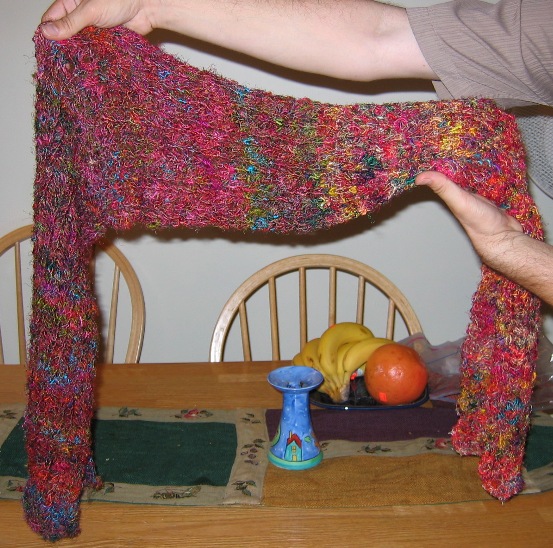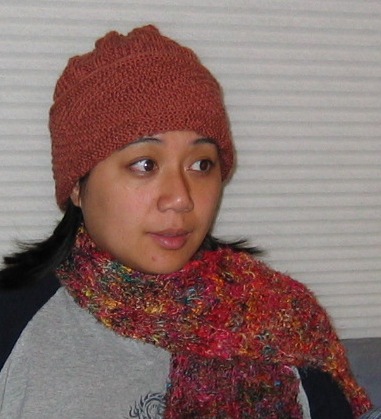 MG's wool hat (2004)
This hat is the Gansey Watch Cap from the book "Hats On!" by Charlene Schurch (ISBN 0892724358). It was knitted on a size 6 Inox 16" circular needle and size 6 bamboo dpns, with Mission Falls 1824 Wool (color Nectar), which is about worsted weight.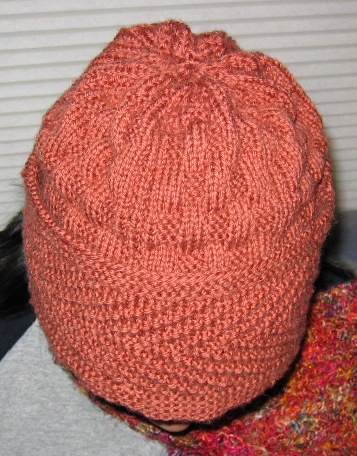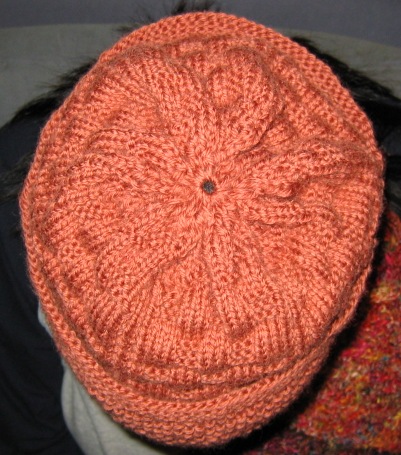 Alan's wool hat (2004)
Another hat from "Hats On!", the Aran Watch Cap. I adapted the pattern for Sirdar Chunky Denim wool and knitted it on size 10 bamboo dpns.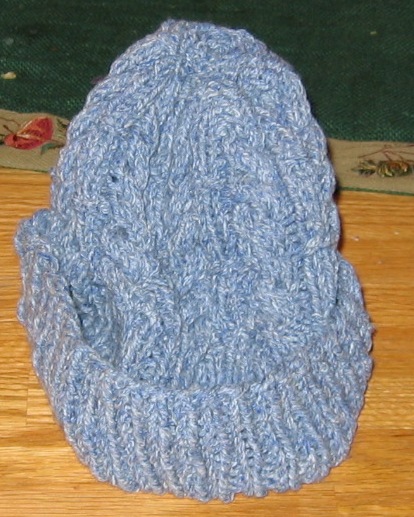 Baby hat and booties (2004)
This hat and pair of booties are from "Minnies" by Jil Eaton (ISBN 007139611X): the Feltie Feet and Genghis Baby patterns. They were knitted on size 10 bamboo dpns. They were a gift for a friend's new baby; she had sent us a knitted hat for our son when he was born. The yellow wool is Lamb's Pride Bulky (color M13 Sun Yellow), which is great to knit with; the blue is Sirdar Chunky Denim wool.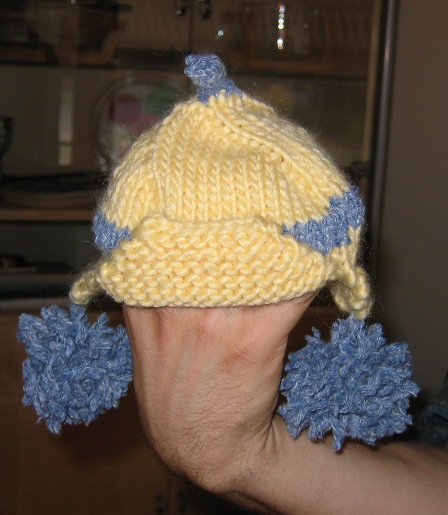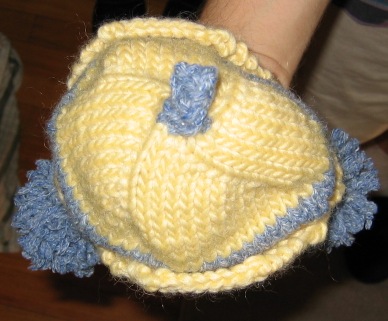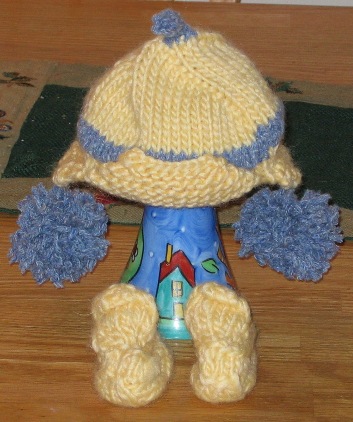 Acrylic hat and wool hat (2004)
More hats from "Hats On!". The acrylic is Ahe Lusekofte cap, which is worked in Fair Isle style, with two colors Af yarn. My first serious Fair Isle venture (which I'd do again) and my first use of generic worsted-weight acrylic yarn (which I wouldn't, although having something washable will be useful). Knitted on a size 6 Inox 16" circular needle and size 6 bamboo dpns.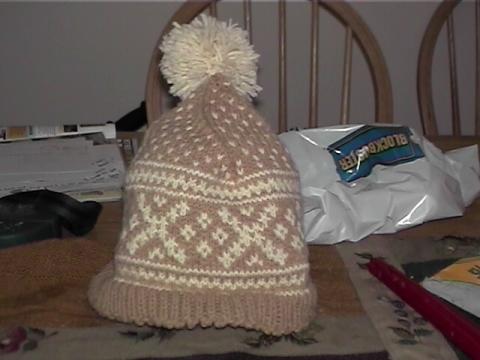 The wool hat is an adaptation of "Cap with Turk's Head Cuff". I adapted the pattern from one color in worsted to two colors of bulky yarn (Siridar chunky denim wool and Lamb's Pride bulky Oatmeal) on a size 10 Inox 16" circular needle and size 10 bamboo dpns. The five-pointed crown pattern was also my design.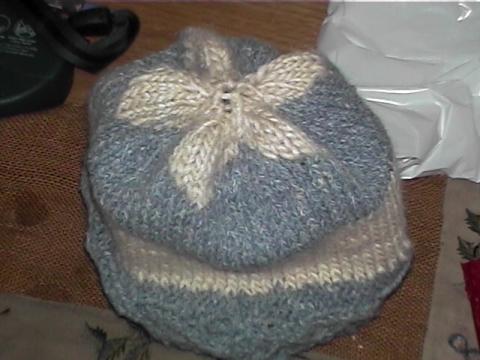 Cotton vest (2004)
My first torso garment, from "Big Fish, Little Fish" by Jil Eaton, the Ivy League pattern. The yellow yarn is Lamb's Pride Cotton Fleece. Knitted on a size 8 Inox 16" circular needle and size 6 bamboo dpns. And it fits! (it had better, after the three gauge swatches I had to make before I found the right needle size. :) The first photo shows the pattern well, but the color is much brighter - see the second photo. :)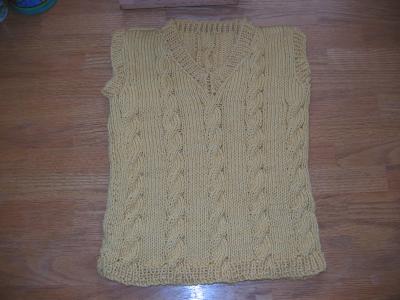 Acrylic/wool blend sweater (2004)
A red crew neck sweater, using a much much better acrylic (well, 75% acrylic, 25% wool blend) yarn, Plymouth Encore worsted weight. Made using Jacqueline Fee's "The Sweater Workshop" book, and size 6 and 8 Inox 24" circular needles.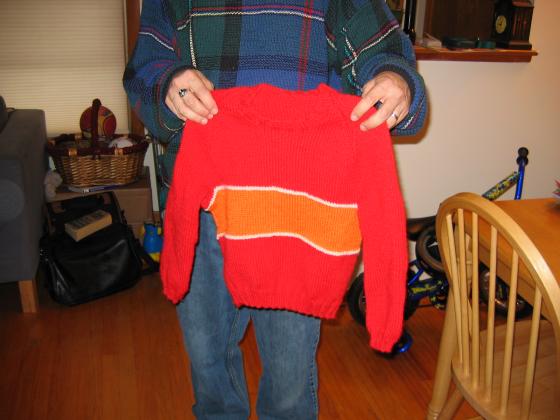 Alan's wool cardigan (2005)
A wool v-neck cardigan for me, my first adult sweater. It came out pretty well, and extremely warm, although if I do it again, I'd shape the neck a bit differently -- I'd start the V a bit higher up and wouldn't have it quite so wide at the top. I still might sew on a couple of pockets in the brown color. Click the picture a zoom on the detail.

This was knitted with 7 skeins of Cascade 220 wool in the olive color and 1 skein in the brown color for the borders. Based on the v-neck cardigan design and the garter stitch rib pattern from Jacqueline Fee's "The Sweater Workshop" book, and size 4 and 6 Inox 24" circular needles.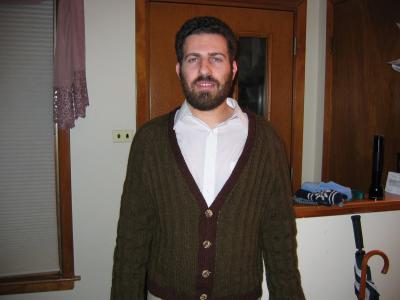 MG's clapotis hat (2005)
This hat was made using the pattern by Amy with Berroco Foliage yarn (3 skeins of "Joshua Tree") from a nearby knitting store that just opened. It's quite a clever and tricky little pattern.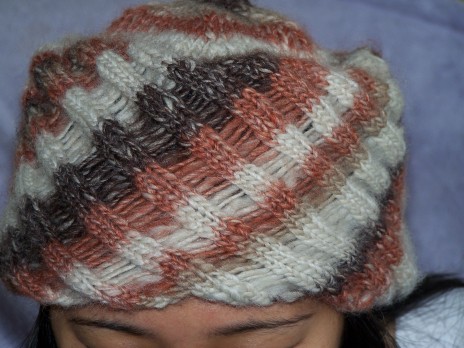 MG's wool stole (2005)
This leaf-patterned stole was knitted in Col China chunky merino from Handpaintedyarn.com, which is a very affordable place to get interesting yarns. The plan was to convert a fringed entrelac scarf from a book that called for about $300 of La Lana Forever Random yarn into something affordable. After swatching it up, though, entrelac didn't work well in this yarn, so we went to the stitch dictionary for this lace leaves pattern. So far, this is the largest project I've done.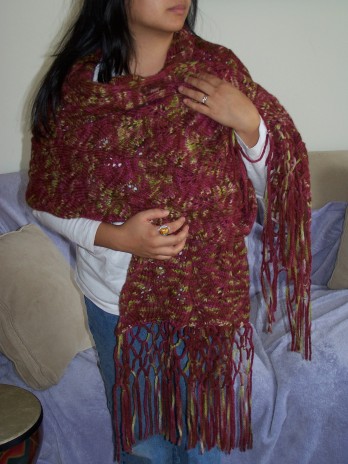 (Click to zoom)
Rainbow hat (2005)
This simple hat was knitted with Berroco Air (1 skein of Technicolor) stranded with Berroco Foliage (1 skein of Carnations) on size 15 needles. Quick and fun.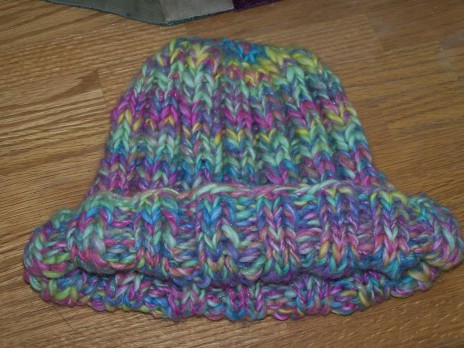 Stuff for a baby-in-waiting (2005)
My sister-in-law's due to have a baby in Feb 2006, so it's been a perfect opportunity to go a little crazy knitting small things. In addition to the felted booties, I've been knitting a bunch from Zoe Mellor's "Nursery Knits". Here you can see a baby cardigan, a snuggly suit, and a stuffed penguin toy (click the penguin for a side view).
Aran sweater
It took quite a long time, but I think the results were worth it. This was knit from Cascade ecological wool using size 8 needles. I picked the patterns for each panel from the Harmony Guide for aran patterns. And it fit, too!
Not pictured...
An acrylic octopus toy (finished - pic to come!)
Alan's acrylic sweater in Sirdar sienna marble (finished - pic to come!)
Another hat for me (done - pic to come!)
MG's aran sweater (done - pic to come!)