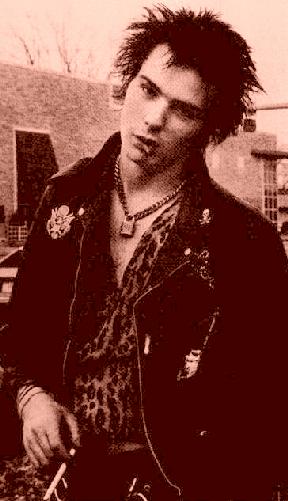 Sly
Sly, aka John Simon Ritchie, aka Sid Vicious
Description
Sly has dark hair and eyebrows. He is an ugly fellow, with a near-perpetual sneer. Although the resurrection cured his acne pock marks, his chest is now covered with scars. He is very thin, and young-looking... appears to be about 20 years old.
Biography
Sly was born around 1955 (plus or minus two years). He was born in England, and spent his teen years in London. A high-school dropout, at a young age he was recruited by Malcolm McLaren to join a band that McLaren had created to exploit the disaffected youth of London. That band was called the 'Sex Pistols', named in part after McLaren's boutique, 'Sex.'

Sly was approximately 19 when the Pistols made it to the very top of the music industry in 1975 with songs like 'Anarchy in the U.K.' and 'God Save the Queen', which made number one on the charts despite being censored (The Billboard chart had a blank spot at Number One). The Sex Pistols were a smartly packaged group representing rebellion and anarchy, even as they were basically about making money. Sid, however, was no act: cruel, nasty, self-destructive, he personified that which the Sex Pistols purported to represent.

Sid became involved in a destructive relationship with Nancy Spungen, a groupie from New York. After the Pistols broke up, he moved to New York to start a solo career. Soon thereafter, at the age of 21 or so, Sid stabbed Nancy to death. Arrested for the crime, he was on bail about a month later when he died of a drug overdose.
Personality
Sid is uneducated, speaks only English, and has not matured at all while on the Riverworld. His horrible attitude has already gotten him killed twelve times, and he seems to be revelling in his ability to do whatever he wants and not suffer any consequences. He is rude from the get-go, although he tries to get involved enough in his new group before he gets really horrible... suck 'em in then cut 'em down :)
Skills
Sid can sort of play the bass. He is an experienced bar fighter. He is charismatic and is a good showman, but his self-destructive nature tends to interfere with his ability to utilize that skill.
Personality Questions
Would your character prefer a game of chess or a game of football?

Football... and would try to cleat people in the head :)

If your character found a wallet in the street, would they return it?

No, he would keep it and get drunk or worse with the money :)

Would your character be more likely to be the life of the party or to quietly observe the goings-on?

Life of the party.

Would your character be found on the top of a pyramid of people or on the bottom?

Depends on the people. Among the discontented, on top. Among 'normal' society, he would rank lower middle.

Pretending to be your character, rank the following statements in order of truth. Leave out statements that are false about your character.

a. Other people listen to what I say c. I am clever with my hands d. I notice my surroundings