Aims
Posted at 11:45 am.
I have wide-ranging interests, and especially gravitate to interstices, where different ways of thinking come together.
Judgment and Decision-Making
My scholarly work has focused on general human judgment and decision making in health and medicine. I consider how physicians, patients, and policymakers form judgments and make decisions about health and health care — and how those decisions can be improved.
Recent projects include: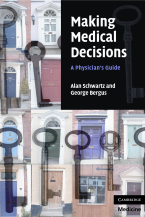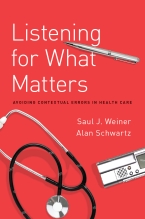 JD Candidate, May 2024, UIC School of Law. Interests include medicolegal decision making, law and psychology, and public interest lawyering.
Editor-in-chief (2013-2020) of the journal Medical Decision Making, the oldest journal devoted to the study of medical decisions, published by the Society for Medical Decision Making
Listening for What Matters: Avoiding Contextual Errors in Health Care (by Saul J. Weiner and Alan Schwartz). Reviews 10 years of our research using concealed recordings of patient-physician visits to show how doctors can and must improve at tailoring care to patients' individual lives and needs.
Making Medical Decisions: A Physician's Guide (by Alan Schwartz and George Bergus). A book providing physicians with a practical translation of current theory and practice in medical decision making for use with their patients. Available from Cambridge University Press.
Life goals in health decisions. How do non-medical goals that may be achieved in the future impact the way people evaluate their health-related quality of life and make medical decisions?
Assessment of Evidence-Based Medicine Skills. How well do physicians learn to evaluate the validity of evidence from the clinical research literature, interpret results, and apply them to their patients? How can it be better taught, better learned, better practiced? What role should clinical librarians play? What are the implications for clinical behavior and patient outcomes?
Clinical values. What is the ideal physician, and how does the ideal differ for different patients? Are patients whose physicians share their ideals more satisfied with their physician and do they have better health outcomes?
Perceptions of and Attitudes toward Risk in Treatments. What aspects of treatment options or clinical trials cause people to consider them more or less risky? How much risk are people willing to accept? One product of this research has been the development of a medical risk-taking subscale for the widely used DOSPERT domain-specific risk-taking scale.
Competency-based assessment and research infrastructure in medical education
I am engaged in several national projects related to developing new approaches to assess the performance of physicians-in-training, particularly in Pediatrics, and to improve the infrastructure for conducting meaningful medical education research.
Examples of recent and past projects include:
The Association of Pediatric Program Directors Longitudinal Educational Assessment Research Network (APPD LEARN), a network of over 155 Pediatrics residency programs and nearly 900 Pediatrics subspecialty fellowship programs conducting multisite educational research with infrastructure for data aggregation, archiving, and sharing.
Consultant to the Education in Pediatrics Across the Continuum (EPAC) project of the Association of American Medical Colleges, in which 4 medical schools are testing whether they can advance students from medical school to Pediatrics residency based on achievement competence rather than the standard four-year time frame.
Co-chair of the Educational Achievement data specification task force at Medbiquitous
Quantitative consultant to the Initiative for Innovation in Pediatric Education (IIPE), now completed. IIPE sought to encourage educational experiments in Pediatric education.
Computer-mediated communication and information
I'm fascinated by the ways in which computer and network technology impact human communication and cognition.
Recent and past projects include:
Online teaching. Since 1998, I've been actively engaged in online teaching at the graduate level. A current interest is in developing network visualizations of online courses to assist teaching faculty.
Multi-user internet virtual worlds (MUDs). I spent 11 years (1995-2006) as the maintainer/developer of a flavor of MUD server called PennMUSH, and currently maintain the PennMUSH community site and produce Tinytalk, a podcast about text-based virtual worlds and their players. I have run MUSHes based on Frank Herbert's book Dune (DuneMUSH) and Philip Jose Farmer's Riverworld (Riverworld MUSH). I have also run a play-by-email storytelling game set in Riverworld. These "games" provide me a unique opportunity to study management and organization in a virtual environment, as well as being a lot of fun. I was a founding editor of the Journal of Mud Research (now the Journal of Virtual Environments) and published two papers in the area of organizational behavior and muds. More recently, I have been involved with some projects using MUSH servers as venues for art, both self-initiated and initiated by Nina Pope and Karen Guthrie, two professional UK artists.
Software development. Some past projects have included ebmlcs, testcalc, and other tools for teaching evidence-based medicine.
Unix/linux system administration. I'm a former LPIC-2 certified linux system administrator. and co-author of the World Bank Information Technology Security Handbook for developing nations, published by infoDev. I've written a few technical articles, for Web Techniques magazine and ONLamp.com, and authored or co-authored four books published by O'Reilly Media, Inc: Managing Mailing Lists (1998), Stopping Spam (1998), Practical Unix and Internet Security, 3rd ed. (2003), and SpamAssassin (2004)